Introducing: Dave, owner of Friends of Sound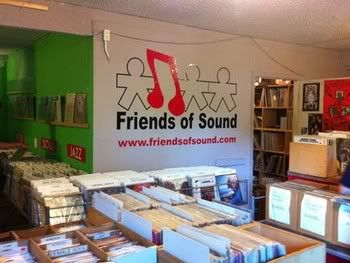 Friends of Sound is a hidden jem on South Congress that's a gold mind for the record collector of all types. I've spent time in and out of the store with new sounds that ring through my ears for days. Of all the record stores I've been to in the good ole USA and England, I will highly reccommend this spot. I'm sure DJ Shadow and Madlib have selected records from this location on numerous occasions among other DJ's. An extremely knowledgeable staff lead by Dave the owner of the location. Also know as DJ Cool Hands. Dave took a moment to share his thoughts on records, tunes and a little bit about the record store industry.
Feel free to take stroll down to his store or surf the internet highways to his site for more information.
http://www.friendsofsound.com/
What are some jems that are in your records collection?

Gloria Ann Taylor, "Deep Inside of You," ep. This record epitomizes where I've ended up with my musical tastes. Most records come and go for me. Due to the business I am in I tend to keep them for a short time and then move them. But, the Gloria Ann Taylor is one that I could just never bring myself to let go of.

How long have you owned a record store and how did it come about?
I have owned Friends of Sound Records in Austin for approximately 6 years. The store came about because I had a problem. I couldn't stop amassing records and my personal collection surpassed 20,000. My wife said it was either me or them. At the time, I was also unemployed and it seemed like a far more enjoyable career than many others I could have chosen.

What goes into opening and maintaining a record store?
The collector in you has to die. You can't only stock records you like because the general record buyer doesn't necessarily want a store full of Japanese Modern Soul with a funky glockenspiel break. You have to put yourself in the position of a buyer with tastes other than your own. You need to constantly keep up to date on the trends in sales of different genres and keep a balanced stock available for consumers.

What are your thoughts on the record industry and digital distribution?

Since it's inception, the record business has been a constant evolving and shifting entity. The recent focus on digitizing music has positive and negative connotations. On the positive side, people have access to music like never before and it is easier for musicians to get their songs heard. On the negative side, I personally feel, that there is something lost when you digitize a song, Yes, people may be able to hear it, but there is more to music then just the song. There's a visual aesthetic that is important to the overall experience and that is often lost in digital translation.

Any producers that you would love to see scoring a film?
Pete Rock. He never gets enough credit and he's always been amazing.
You're a DJ as well? What tunes come in rotation and any upcoming gigs?

In Austin, I participate in a great soul night called the New Day. It is at the Highball on S. Lamar and takes place the third Saturday of every month. I also have a guest spot in February at Title Town in Pittsburgh.
I have been on a late 70's/early 80's soul kick.

Some of your current tunes that are really tickling your ear?
My top 5 right now are 1) Split Decision Band- Everybody's Watchin Out 2) Trace of Smoke- Treasure Mind 3) The Spinners - It's a Shame 4) McKinley Mitchell - Party Across the Hall 5) Clifton Dyson - I'm Giving Up
What is your favorite film monster?
Animal from the Muppets.