Introducing Dirty South Joe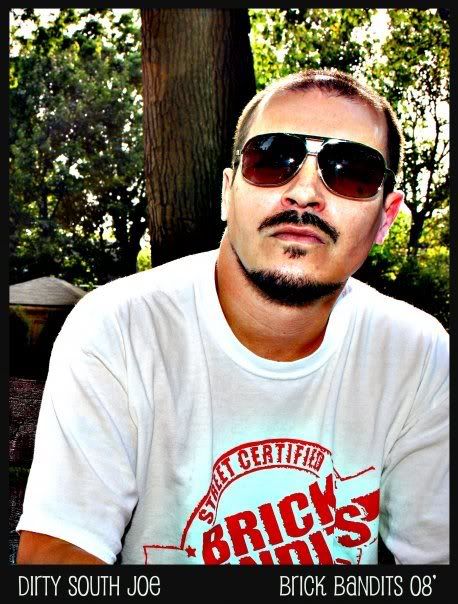 Took a moment to have a sit down chat on seeing what's good with Dirty South Joe From Philly. If you didn't know Joe has been in the DJ game for a good minute. Over 10 years. I found about Dirty South Joe a while back ago when he was using the alias DJ Deluxx on a mix cd he did with Low Budget of the Hollertronix days. It was titled Snap or Die. I was blown away by it.

Tell us a little bit about yourself and how you got started into the world of djing?
I was always a music fiend throughout high school...rap, punk, new wave etc, and grew up going to way too many shows at DCs 9:30 Club in the late 80s. When highschool was over, it was only natural that I got a job djing at the same place (9:30 club) I'd be spending most of my time at anyway. My first night working was for the Ride/Lush tour in 1990. Shoegaze for days...
That was back in the rollercoaster tour days with blur and jesus and the marychain.
When did you start to work at the record store?
Which one? LOL. I think I worked at at least 10 record stores
Well maybe not quite 10.
You seem to have a large collection of dance tunes. What brought that on and what was some of your first tunes and genres that caught your ear?
My education in dance music came up from my relationship with techno maverick, John Selway and our close friendship that developed right after high school. He and another friend, Carlos Vasquez had various rave era "bands" that would play at raves up and down the East coast from 90-93 or so. The stuff that really caught my ear back then was when Warp records got on the scene. The first Nightmares On Wax 12"s and LP. Aphex Twin really blew my mind. Just about anything on R&S Records, Shut Up & Dance etc. Where were you in 92?
I was a freshmen in highschool then starting a punk band. Tell us a little bit about the Brick Bandits and how they came about? Anything new coming ahead?
Brick Bandits were formed in the Newark, NJ area in either 02 or 03, by Mike V and Tim Dolla as they were all discovering Baltimore Club music and the fact that they wanted to do it too. Initially, their chief rival was DJ Tameil, who had been holding down the Jersey club crown and was also well respected by the Baltimore OGs in the game. After a lil back and forth, they combined forces and laid down the foundation for what it's becoming today. I'd known Tameil for a few years, but I got my invitation after I met the other dudes and they heard me spin. It also helped being DJ Sega's manager as he was the first Philly Bandit on the map. We just dropped a 12" and digi ep in conjunction with Mad Decent, and we've got another one scheduled featuring six entirely different producers than the first one, as well as a Ghetto Division ep, which is the Chicago branch of Brick Bandits.
Who is featured on the current Brick Bandits ep?
The first ep has a track each from DJ Sega, DJ Tameil, Tim Dolla, Mike V, Dj B-Stee and Dj Rob3.
Are you planning on producing anytime soon?
Good question. I've done some work in the past in collaboration with others, but I've yet to really focus on the studio myself other than dj mixes. That's definitely gonna change in 09, and I should have some things poppin by the end of the year.
In what styles are you thinking? Very interested in hearing what you come of with Production.
Club for one, but I definitely want to experiment a lot and come up with my own sound. There's nothing particularly genre specific I'm trying to merge or "mash" but as long as I can tear up a few dance floors, then I'm headed in the right direction.
Would this these be "no headphone" movement friendly? And what is the no headphone movement?
Haha! Yeah, of course!
Well...let's be honest...Djing with Serato is one of the easiest things in the world. It's almost like playing Guitar Hero and thinking you really shred. The traditional requirements you need to dj well (headphones for instance) are more of a security blanket than anything. The wav forms don't lie. DJ Sega and I both discovered that we were as, or even more comfortable shunning the headphones in our live performances. So we 86d em. I tend to play a lot of tracks in my sets, sometimes as many as 40-45 in an hour and the cueing it up in the headphones bit is imo an unnecessary extra step, and potential time waster. I guess it started about a year ago, and so far everyone looks at us like we're assholes and it really hasn't caught on. LOL. As long as you know the music you spin, it's not really an issue. We're killin it regardless!
what are some of the more memorable places you played lately?
Definitely the Top billin party in helsinki and The Rumble in Malmo. The energy from the crowds was way off the meter, and working club music successfully into a ravelike atmosphere is definitely a triumph. I can't wait to get the rest of our dudes on the international stage so that people can get that raw, uncut club music that they didn't even know they were missing.
Do you have any places you wanna play for the upcoming year ?
Fabric in London and Australia for sure. I think they need Brick Bandits to show em the truth!
Do you have any weeklies right now or nights you suggest to go check you out at ?
We're still doing brick Bandit Beatdown monthlies here in Philly where we bring in the Baltimore legends who've inspired us. The Doo Dew Kidz performance a few months ago was the best thing I saw all year. Beyond that just a lot of guest spots and so on. Flufftronix and I just started a Yacht Rock inspired monthly here that had a surprisingly awesome debut I'm pretty excited about.
How's the Philly scene at the moment? It seems philly has a long resume on the chunes for sure. King Britt, Jazzy Jeff and hollertronix.
It's good...some of the best line ups you could ask for at times. There's not a real unifying force or purpose to a lot of what's happening at the moment, but on a good night, a Philly party is better than anywhere. Folks tend to dance their asses off here and there's not a lot of posturing going on. Also, there's a lot more freedom to take a crowd to uncharted places these days than in years past. They are definitely open.
And what is your favorite film monster?
The thing trying to get out of the basement in Evil Dead 2 going " I'll swallow your soul!"