Introducing: Hot Rails to Hell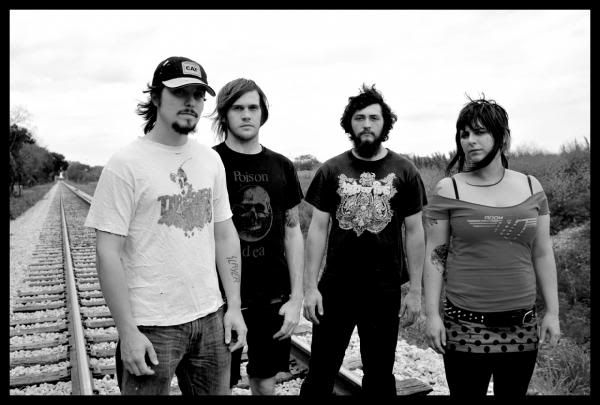 A very talented band composed of 2 electricians, a carpenter and a bartender from different bands to form like voltron to create this super sonic sound called Hot Rails to Hell. I met the band at different moments through Kevin (Guitars) of the band. He also turned me onto metal from the Netherlands and other interesting tunes. Had a quick second to chat with Kevin about the band and what not. Rock on

You have an interesting line up, how did you guys form?
Jasmine, Jay, and I all met in 07' and played in a hardcore punk band, Ben Pickett was always around, went on a texas tour with us. Jay and I played in several punk bands before we decided to start a rock n roll project. fall of 09' we asked Ben and Jasmine if they were interested and they were, so we got together and jammed on a few songs, sounded good. Played are first show at the broken neck that next march, and kept going.
What other side projects does the band have?
I play guitar in Night Siege, Jay plays drums in the Blood Royale, Jasmine plays bass in The Altars, and Ben Pickett plays Banjo with Dirty Charlie.
How would you describe your sound?
Toni Iommi had a love child with Angus young
Some of the band influences?
hmmm.....lets go with Black Sabbath, Kiss, motorhead, and early metallica
Any bands that you are currently listening too?
Been listening to lots Darkthrone, the "Kill em all" record, Sabbath, Kiss, band from sweden call Graveyard
Analog or digital?
Mostly analog, lil bit of digital is good.
Upcoming news and gigs that you are looking forward too?
Been working on our full length record with David Dickinson at Lonewolf Productions, should be ready by SXSW
What's your favorite film monster?
The monster from "The Thing"