Introducing:Butcher Bear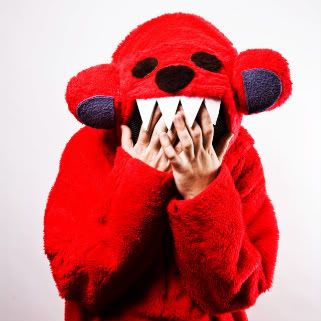 Saw Butcher Bear with Charlie at Beauty Bar from a recommendation from a friend of a friend. I was curious and thought it was a slash metal group at first from the name then saw a blue bear wearing a snare drum come out from the depths with Charlie singing tunes that were not metal. Enjoyed the show and later ran into him and her at Red Scoot Inn, I think we all had a few adult beverages that evening cause my memory is still kinda foggy about that evening. I was able to have a small interview with the busy bear over the weekend and this what he had to say...
How are you doing today?
Doing good Doing good. Just trying to stay busy .
How would you describe your sound?
pretty junk shop. i use all kinds of different sounds to make songs. Pop music from the gutter. Live instruments, computer box, samplers, drum machines, kids' toys.
How and when did you get into
djing
and producing tunes?
I've been playing records for ten years. my buddy Craig who performs under the name $hit & $hine, sold me my first turntables when he left for England. I've been writing songs for more like 18 years. in all kinds of different ways. moving to producing and arranging with computer set ups and little drum machines happened maybe 7 years ago. pretty much the same as what I've always done with a few minor adjustments in the process.
Who are some of your influences?
My friends are my biggest influence for sure (soundfounder, Boom Baptist, HOBO D, Reaganometry, Atarimatt, Horse Rappaport, SSS, Answering Machine Records). i always like to see what they are up to. i get a lot of inspiration out of seeing what they come up with. we're all pretty different, but use alot of the same gear, so that helps with ideas. John Coltrane, Tim Kerr, Marc Bianchi (Her Space Holiday).
What are some current sounds that really tickle your ear the most?
I've been listening to tons of Ras G. He really has the craziest music out right now. almost unclassifiable. he makes tracks that seems totally complex, but off the cuff at the same time. it sounds like there's a war going on in the speakers. and the BASS. no one flexes it like him. Also, new Her Space Holiday record. it's not out yet, but i can tell you, the songs on there are so good. real special record for sure.
What are some of your memorable past gigs you had?
Biggest thing that happened last year was creating Exploded Drawing with my homie from Focus Group, soundfounder a.k.a. Andre Brown. A semi-Monthly event we created, where we play records for an hour and then we have 6 twenty minute sets of original live music from Texas and abroad, played by the people that make it on their equipment, ranging from drum machines and pedals to computer-controller set up, to just a loop pedal and a tambourine. We just rented a spot, a sick P.A., and let the homies show us what they've been up to in the Lab. Just so cool to see the community coming together and seeing people perform music they maybe thought they never would.
Also, getting to open up for Nosaj Thing last year was definitely a high point. Huge sound system, got to play some of my fave joints and also a bunch of my own production.
The label (IN)SECT Records, how did that come about and who is on the roster?
It's something I'd wanted to do for a very long time. Just needed the right situation and music to make it a reality.
Currently I've put out records for:
This Moment In Black History (from Cleavland)
Butcher Bear & Charlie
A couple mixtapes with RECSPEC. They do all of our design and web stuff. www.recspec.org
Explosion Horse (Clarke from Cowabunga Babes)
Georgia Anne Muldrow & Dudley Perkins (amazing Fonk from this couple)
california party girls (break your heart music)
Fresh Millions (Big sounds from this tiny band)
Society of Friends (power violence from texas)
Any future releases to expect from (IN)SECT Records?
My schedule for 2011 is as follows:
Starship 27 Vol. 2 (compilation feat. Ras G, Dam-Funk, Computer Jay, I-Ced, J-1, Eric Lau, House Shoes and more) (2X12" vinyl/Digital) coming out March 29, 2011
Reaganometry & Butcher Bear - R&B split EP - (Digital Only) out March 15th (contributing six songs each, this e.p. represents a huge step away from the more pop stuff i've done, and for Reaganometry a huge step toward greatness. He is close to say Amon Tobin, Aphex Twin, Boards Of Canada)
Atarimatt - Happy Mayonnaise (12" vinyl/Digital) out beginning of April - Matt plays an Atari 2600 that he modded out. I have no idea how, but he stores his songs on game cartridges. His debut vinyl release is one of the most evil things we've heard over hear. and it's possible that your young children will like it just as much as you will.
DAK - flexi-disc out in April 2011 - DAK has put out a cassette on a label called Leaving Records. He's a beat maker from L.A. really original music. Never heard anything like it before. and we're putting it on wax. flexible wax.
What are some upcoming events to look out for?
We're doing Exploded Drawing every other month almost. You can get details at facebook.com/explodeddrawing and we're always taking submissions from folks at explodeddrawing@gmail.com if you'd like to come and play it.
We are having the TWO-YEAR anniversary for a monthly DJ night we do over at the Rio Rita. It's called Kon Karne's Butcher Shop with The Bear. Me and Kon Karne spin records every month under a different theme. For our Anniversary which is on Friday February 25, 2011. It's always free, so come have a drink with us to celebrate. The theme this month is "Cotton Panties" podcast is up at www.konkarneandthebear.podomatic.com
Starship 27 Vol. 2 record release shows in L.A. and San Fran beginning of April and later that month we'll be curating a night of performance and music at the Fuse Box Festival here in Austin.
What's your favorite film monster?
probably David Bowie