Introducing:Eagle Claw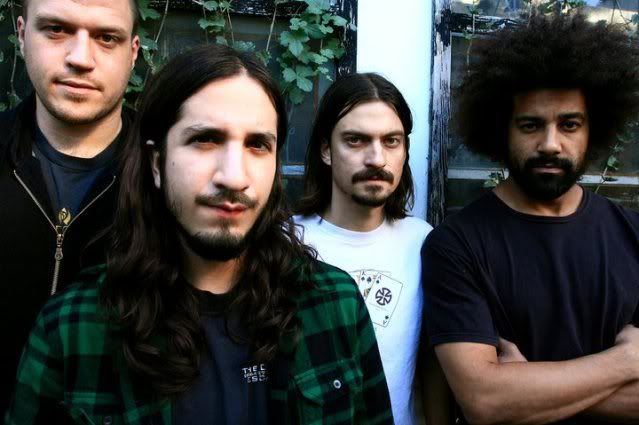 First heard about Eagle Claw via Bart, the drummer of the group a few years ago and he told me about it. I thought it was really interesting and was all about watching a band just get up there and shred kinda like listening to the instrumental B-side of a record. Saw them play for the first time at this spot called Hole in the Wall and had a blast watching everyone going Donkey Kong. Overall I thought it was really innovative and all about attending their future shows. The music is well produced and just awesome. Here's a little interview I did with the group recently.



What is the Story behind Eagle Claw on how you formed in the Fall of 2007?



It was never really supposed to be anything. Bart (Drums) had been jamming with Luther (Bass) off and on just for fun, but it was really infrequent. I don't recall exactly how it happened, but they found out somehow that I could play guitar and asked if I wanted to jam.I said yes, but the only amp I had at the time was a little 8: VOX. Hardly enough to contend with a drum kit and a bass rig. Like I said, it was all just for fun. Eventually though, songs began to form and we all really liked where it was heading. As an instrumental band, we could also see that there was a ton of room sonically to add another guitarist. The process of trying out guitarists took a lot longer than you might think. There's a lot of talented musicians in Austin, but for all of their particular reasons, we knew we had the right guy when Mike joined the band! We never looked back since.



For a metal band you have a very unique sound and wondering why you made the choice of going instrumental versus having vocals?



It really wasn't a conscious decision. We never had playing shows in mind but out sound just kinda grew organically into what it is now. We like what we are doing and so do the people who come out to see us. I can't say that we are against the option of lyrics but for us, now is not the time.



You have a release titled Poacher with some interesting artwork, how was it working on the release and who did the design?



We all had a lot of fun with the release of Poacher! I guess there was a lot to be learned though. We were so unorganized. Instead of trying to get everything done at or around the same time, we did each part individually, which stretched the amount of time from start to finish tremendously. Lesson learned. Bryan Richie recorded and mixed the album, Conrad Keely did the front cover artwork and puregrease.com did the rest of the album artwork.



What are some of your most enjoyable gigs?



Free week shows in ATX are always bad ass! Other than that we have had a lot of opportunities lately to play with a lot of bands that we respect and listen to! The Sword has also been taking us out quite a bit which is always fuckin rad! We had a killer time at Fun Fun Fun Fest 2010 too! We really just like to play live and we always enjoy it.



Any future plans such as a tour?



Of course! I don't know how soon anyone will be reading this but we have a show in OKC on the 11th and Dallas on the 12th, both of which we will be opening for The Sword. After that we will be playing a couple one0off dates from till SXSW ( which we are playing and can announce those shows soon) After SXSW we will be going on a 3 week tour heading Northeast to NYC and back down again. Check eagleclawhurts.com for more listings.



What is your favorite film monster?



Mike is the movie guy, so I had to ask him. Seriously he is that guy you know that remembers every movie and the actors name who played in it. I don't even know who this is but I looked up pictures of this monster and he looks pretty rad. Mike's favorite film monster is C.H.U.D.
More info can be found about Eagle Claw at:
www.eagleclawhurts.com
www.myspace.com/eagleclawatx